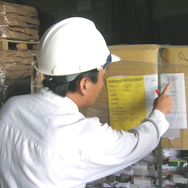 AMS has also given boost to the industry by providing Management of CFS. CFS Management is a crucial link in the logistic chain of your freight. Today in the computerized and automation era, we are prepared for all the possibilities in providing management for your containers & cargo with a constant surveillance and up-to-date data.

AMS, has since been accredited with ISO certification ISO 9001:2008. Our attainment of ISO certification demonstrates our longstanding commitment to quality & clients satisfaction.

AMS is led by IICL qualified Inspectors & experienced surveyors, having several years of experience in field of comprehensive range of surveillance and supervisory services in line of Marine Cargo and containers with an excellent, dedication, well experienced and competent staff to handle challenging job to the satisfaction of valued clients, confined to our QUALITY POLICY.

We are fully committed to constantly re-evaluating and improving our performance standards. Our Objective is to provide the "BEST" to our Clients at all times at competitive rates. Our unbiased services and survey reports are widely accepted by Shipping Agencies, Freight forwarders, Exporters and Importers, and even the loss assessors.

AMS, although we have earned good experience in variety of jobs and projects, still we are very eager to handle new potential business and project. AMS is constantly looking towards serving the growing needs and demands of its distinguished clients having diverse interests. We have laid down specific plans and have also designed strategies to provide specialized services to our esteemed clients, which will eventually result in matching the demand of the new millennium.

We are loss assessor, Marine Surveyors to various reputed Shipping Lines at many of the Cargo/ Container Terminals across the Country in Marine Surveys. We have a wide network of Branch Offices and associates all over India. We are also closely associated with the Dry Ports/ICD's through our strong presence in the well coordinated operations at the Inland Container Depots.